Articles

"Paradise In Amalfi," Lovetripper.com
The Amalfi Coast is a scenic and relaxing place for a romantic vacation or honeymoon.
Paradise In Amalfi
By Fiona Saiter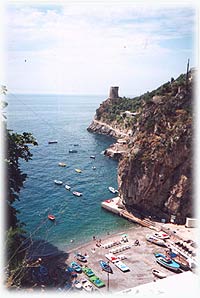 Imagine a breathtaking, romantic, relaxing place where houses and hotels cling to cliff edges hundreds of feet above the sparkling Mediterranean Sea.The fragrant vegetation is brilliantly tropical: palm trees, olive, orange and lemon groves dot gardens along the coast. The bright pink Bougainvillea climb wire fences, contrasting beautifully with the Sea.
It is paradise and it does exist, perfect for a vacation or honeymoon. The Amalfi Coast in Southern Italy is one of the most amazing places that I have ever visited, with friendly people, great seafood, and adventure.
All along the Amalfi Coast you will find pretty hotels perched on cliff edges offering spectacular views.
One beautiful hotel that my husband and I visited on our honeymoon was Hotel Onde Verde in Praiano; it had large rooms, massive balconies and amazing views of the Sea.
Our balcony had huge terra-cotta pots full of flowers, striped chairs where we spent hours relaxing watching bobbing fishing boats and the cliffs melt into the sea.
The Milano family managed the hotel and they made our stay enjoyable. The hotel had a dining room with a wall of windows and sliding glass doors that were opened letting the sea breeze in. We enjoyed many wonderful meals and no matter where we sat we had an amazing view. The dinners consisted of several Italian courses with mouth watering fresh fish, pasta and Gnocchi for my husband. In the afternoon we would often sit outside under umbrellas to have a meal or refreshing drink.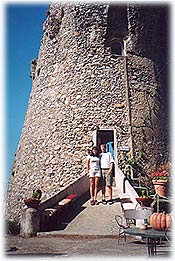 We spent our days on the beach just a short walk from the hotel. At lunch it was a short distance to several restaurants. Before we left Amalfi we visited a 500-year- old lighthouse really close to the hotel. The lighthouse was the studio for artist Paolo Sandulli. Mr. Sandulli happily showed us his artwork. He sold many different paintings and we purchased a memorable print of the view from his lighthouse to the hotel, sea and cliff edges. He even painted a tour bus in the distance going through a tunnel. As we left we saw his pet goat called, "goatee."
There are some really interesting places to visit in the Amalfi area. You can visit Capri, Pompeii, Herculaneum, and other tourist spots by rental car, or the hotel offers excursions throughout the week.
The Island of Capri can be visited in a day trip on the Positano Jet from the Hotel Onde Verde and it is worth it.
I would definitely suggest visiting Pompeii or Herculaneum; both ancient cities were destroyed by the eruption of Mount Vesuvius thousands of years ago. While in Pompeii or Herculaneum you can visit the city, view
surviving artifacts, colorful frescos, and even bodies preserved by ash, showing fearful last few moments of life. The vibrant colored frescos that still exists on wall and showed the wealth of some of the families.
For the nightlife you won't want to miss the Club Africana; it will probably be the most memorable nightclub that you will ever visit. My husband and I were stunned when we first saw the nightclub built inside a cliff and it is only a very short walking distance from the hotel to the Club Africana. We could not believe our eyes as we approached the club: fish were being lifted in a giant net that spanned the entire length of the lighted club. As we walked in the door spaghetti was served by a man in a rowboat at the front of the club. The inside of the club was the actual cliff edges as if we were inside of a cave. My husband and I noticed a nice boat docking outside Club Africana. As we approached the dance floor we saw large round Plexiglas circles showing an aquarium of bright coral and fish below. You might think after all the surprises we couldn't find anything more to stun us but we did. We went down two sets of stairs one on either side of the club. On the one side was a fish aquarium with bright coral. On the other side we saw stalactites and the stalagmites. The club played 80's music, but they also sometimes showed performances on stage. Many famous people including John F. Kennedy have visited, Club Africana. The unique Club Africana is fascination and impressive.
The Amalfi coast is perfect for a honeymoon or a relaxing vacation in many of the hotels, but Hotel Onde Verde is recommended. Enjoy the beauty of the area, swim, sunbathe, visit many of the attractions and for a lively night visit the Club Africana:You will come back home knowing you have visited a piece of paradise.

For further information:
HOTEL ONDE VERDE:
Via Terramare, N 3
Amalfi Coast, Italy
Tel: 39 089 87 41 43
Fax: 39 089 8131049
Web: http://www.ondaverde.it
Email: reservations@ondaverde.it

CLUB AFRICIANA:
Via Torre a mare, 2-84010 Praiano
Costa D'Amalfi
Salerno, Italy
Tel: 39 089 874 042
Fax: 39 089 813 1133


Fiona Saiter is a freelance writer and frequent traveler from Ohio. She has had several pieces published including a movie review on Miscellaneous Ramblings website and a self help article, "Healing Yourself and Others Through Positive Action," after September 11, on SelfGrowth.com.

Da: Edward Simpson [mailto:emd.simpson@virgin.net]
A: reservations@ondaverde.it
Oggetto: My holiday in Praiano
When Sartre observed that "hell is other people," he might well have been speaking of Italy's Amalfi Coast in high season. Not so for EdwardSimpson. Following in the wake of the fishermen who first settled these gorgeous shores, he takes to the Amalfi Coast and finds heaven which had once been the preserve for the 'smart jet set'.
In 1807, Napoleon Bonaparte's older and, let's face it, less successful brother, Giuseppe, visited a mountainous stretch of south-facing Italian shoreline and liked it so much that he decided to put in a road. It took fifty years to construct, but when the route was finished, it was finally possible to reach the Amalfi Coast without the aid of a boat. Even then, the tourists did not come. In the 1950s, when John Steinbeck visited Positano, he found it almost free of human traffic and didn't think there was "the slightest chance" that the area would develop. "The cliffs are all taken," is how he put it in a story that appeared in Harper's Bazaar.
The road is called the Amalfi Drive and is said to be one of the world's finest—a festival of hairpin turns, Jesus-Mary-and-Joseph views of the Mediterranean, and, at one juncture, ceramics and a limoncello factory. There is little doubt that it is truly one of the great drives—or was?
These days, the Amalfi Drive is officially known by a far less exciting name: SS163. The Amalfi Coast, south of Naples, has some of Italy's most beautiful coastal scenery. The Amalfi coast consists of thirteen towns dotting the coast from Gulf of Salerno to the Gulf of Naples names like Ravello, Positano, Amalfi, and lesser known Praiano.
All together, there are about fifteen miles of shoreline—sandwiched between the Bay of Naples to the north and the Gulf of Salerno to the south—and the Lattari Mountains hog almost all of it. Most people see nothing but the beach and maybe a marina or two, and spend the rest of their time walking around town.
The town of Amalfi stirs the emotions as well as any in Italy. There is a cathedral in the central piazza, which will come as a shock to no one, and this is where the heaviest crowds hang out, apparently unable to choose a direction in which to start their sightseeing. Closer to the water is the antique arsenal where, prior to the tsunami of 1343, eighty-foot galleys were constructed. The town has its share of curious shops, among them the oldest paper store in Italy, which supplies a substantial portion of Italian wedding invitations, and another that sells nothing but citrus. I went into one that deals in antique telescopes and wooden models of old schooners, where the owners constantly shouted at patrons to stop touching various objects.
Between Amalfi and Praiano juts a point of land called Capo di Conca, on which there sits yet another ruined fort. After that through a tunnel is Praiano and our destination.
After an inspiring drive to Praiano from Naples Airport we found ourselves in the simply unique Hotel Onda Verde.
Travelling down six floors in a lift hewn out of rock – an engineering feat if ever there was one – we were greeted by very friendly and knowledgeable staff.
The bedroom was large, with a simple but contemporary design, and boy when you opened the shuttered windows out onto the terrace with draw dropping views of Praiano, the cliffs, boats, sea… ahh finally a place to really unwind. Perfecto.
Meeting for dinner on the first night under the awning, was this the best and most romantic view known to man? Dinner every night was special, the food a fine example of Italian cooking with local produce but and there is always a but, the food on the half board menu was sadly a real let down. However once we went á la carte it was liked being dined in a Michelin star restaurant.
Miro and his family run a hidden jewel, home made Limoncello (made with fresh lemons from Miro's own Garden), genuine warmth, perfect rooms and views you could only dream of combine to make Hotel Onda Verde truly one of the finds of the year.
In Summary Hotel Onda Verde, offers a stunning location with panoramic views, attentive and friendly staff and outstanding cuisine. Access to the beach, and boats to La Grotta Esmeraldo and La Gavitella. Day trips to Positano, Amalfi, Ravello, Capri, Pompeii and many other points of interest arranged directly at the hotel. The SITA bus, which connects all Amalfi coast points, stops right outside the hotel entrance for the convenience of guests. http://www.hotelondaverde.it
We explored most of other towns, with great drives around the coast, lunch at Ravello – stunning views of Amalfi Town – boat trip around Capri ( a must!), shopping and great weather truly made for a great break.
The Amalfi coast has suffered over the years from bad reviews, over development, intense heat, manic driving, and flooded with tourists/tours, that it was refreshing to hear that tours are not the way forward for the Amalfi Coast to develop. Tourists come from Canada, Australia, England, Germany, France, and a few Americans (used to be the highest number of tourists).
I definitely will return, sooner rather than later, and know that the Amalfi is in good hands, being looked after by locals, to preserve the jewel of the Italian seaside destinations.
Many thanks Miro.
Praiano: Hotel Onda Verde: "Exceptionally wonderful hotel"
Reviewer: Akron, Ohio

My wife and I were on the Amalfi coast for 5 wonderful days in late August, 2007. The Hotal Onda Verde was truly a remarkable find! Host Milano and his gracious facmily provide 5-star excellence at 3-star prices! Our room overlooked the sea...we had a private balcony and a view to die for! Milano helped us by making great suggestions for our day trips. The local bus service is superb...it will get you anywhere on the coast (1 Euro per trip!) and the trips provide the most incredible views of the coast you can possibly imagine. Go see the movie "Under Tuscan Sun" and you will see exactly where you will be going and what you will be seeing during the scenes that were shot in Positano. We suggest that you avoid the tourists in the larger town and stay in Praiano at this isolated, serene, almost spiritual atmosphere of the Hotel Onda Verde. If you read the article in Frommer's about the noise at the Africana nightclub..that statement is ridiculous! There was NO noise at all and our room was closest to the club. Milano and his kitchen staff even found special gluten free pasta for me so that I could enjoy the local cuisine. Treat yourself and experience Onda Verde...it is a treasure. Dr. Samuel Gordon, Akron, OH

Praiano: Hotel Onda Verde: "Wonderful location!"
Reviewer: LaClede, Idaho

We spent 10 days here in July 2007. The hotel hangs on the cliff - the view is wonderful. Rooms vary quite a bit but staff is accomodating if you have preferences. You can walk (steep walk but not too far) to beach and boats and take a water taxi to Positano or Emerald Grotto. Bus service is also convenient. It is not in a town but we did not find this a problem since transportation is easily available. Parking good and secure. We parked the car and just left it there. We spent 2 days in Capri and they let us leave our car there. Would go back!!!!
Praiano: Hotel Onda Verde: "The hotel Onda Verde in Praiano was great!"
Reviewer: Allentown, Pa

We spent ten wonderful days at the hotel Onda Verde this June, 2007. The entire staffwere friendly and obliging. They provided transportation back to Naples airport and it was a no-hastle experience. The food was so delicious and we still hold onto the lovely dinners overlooking the water and cliffs. WE would definately stay here again should we return to the Amalfitana. Several of our friends are also making reservations for next year. We believe in spreading joy! Dominick and Mildred Celone, Pennsylvania

Praiano: Hotel Onda Verde: "Hotel Onda Verde--A real jewel"
Reviewer: jaswpbfla813@aol.com, West Palm Beach, Florida

I just returned from a 6-day stay at the Hotel Onda Verde in Praiano (Sept 2- 8, 2007).I found the hotel online and was impressed enough by its website to book my vacation there. The Milano family owns and operates the hotel; they could not have been more gracious, helpful, or charming. They arranged transportation to and from the Naples raliway station for me and my traveling companion, so we did not need a car.The hotel has one of the best locations I have ever seen; perched on cliffs above a small cove filled with fishing boats. The hotel itself is beautiful and splotlessly clan. The staff was friendly and helpful; they did not stand around with hands out looking for tips. Price of the room included breakfast and a 3-course dinner. The menu choices were varied and excellent. Although the hotel has a 3-star rating, it provides 5-star hospitality. Don't hesitate to go.I highly recommend it for a romantic getaway or a family vacation. I plan to return. John Servideo West Palm Beach, Florida.
Read more about Hotel Onda Verde reviews

italy positano italy sorrento amalfi coast hotels positano hotels hotels positano italy amalfi hotels